How can the industry's best meter also be the least expensive?

Commercial MCP
The meter that has it all

The Secret: A Modular, Plug-and-Play Design
The MCP's one of a kind plug-and-play design gives clients the freedom to customize the number of units monitored by a given metering panel. Clients never have to pay for equipment their business can't actually utilize, and the panel's flexible design makes it easy to expand as your business needs require.

Eliminate Expensive Steps
Any time an ordinary meter would need to be uninstalled for processes like accuracy re-verification, the MCP eliminates expensive extra steps. The meter's electronics module can easily be removed as needed without having to remove anything else from the panel.

Superior Quality
Robust, high quality materials are used in every aspect of building the MCP. From its 30 year battery life to its extensive security measures, the MCP is made to last.

Diverse Applications
The MCP's versatile design is suitable for both new construction and retrofit projects. The panel can accommodate up to six metering modules, each of which can serve four commercial units, for a total of up to 24 units served by a single metering panel.
All Commercial Meters
MCP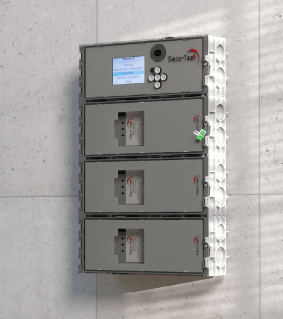 The MCP is Sieco-Tech's greatest achievement in sub-metering innovation to date. Its unique, plug-and-play design allows clients to customize the number of units monitored by a single metering panel, accommodating for a total of up to 24 commercial units. The meter's electronics module can easily be removed as needed for processes such as re-verification without removing anything else from the panel.
Clients save substantially on process costs associated with regular meters, are assured that all equipment they pay for can actually be utilized by their business, and access the means to lower their carbon footprint with convenience and ease.

EASE OF SERVICE
Meter can be easily removed from the meter base for exchange (service work, accuracy sampling, upgrades) and is secured by door/seal at other times
Field replaceable components (Power Supply, LCD, Display MCU)
Built-In CT shorting mechanism and test port
DCU Software is upgradable in the field (per MC PS-E-17 spec)
FUTURE COMMUNICATIONS EXPANSION IN DCU (NOT SEALED)
Via USB – V.90 modem, Daisy Chain Ethernet, Cellular Modem
MODBUS TCP and RTU (RS-485)
BACnet IP
THREE LEVELS OF UTILITY SEALING
Meter Seal (S-E-02), Terminal Seal (S-E-04), Door Seal
INSTALLATION CERTIFICATION TOOLS
Built-in connector for CT tracing integrated into meter design
DESIGN & BATTERY LIFE
30-year design life, 30-year clock battery
STORAGE CAPACITY
5-year on meter data storage capacity
EXPANSION SUPPORT
DCU features expandable in field without breaking meter seal
USB expansion ports for additional hardware
ACCESSIBILITY
Remote real-time reading access
SECURITY
MCP data transmissions are secured using AES-256 bit CBC encryption to ensure confidentiality
SHA256 hash algorithm authenticates data channel packets to ensure integrity
Tamper detection on both meters and DCU
COMMUNICATIONS
Ethernet Port or G3-PLC between floors
MODULAR CONSTRUCTION
Can add/remove meter modules and parts
Expand from 12 CTs up to 72 CTs
MODELS AVAILABLE
Residential
Pre-Manufactured CT Cables, 120V-240V
CT Cables Residential - 10ft (3m), RJ-45 Connectors
Commercial 240V
Spring Loaded CT Terminals, 120V-240V
Commercial 120V-347V
Spring Loaded CT Terminals, 120V-347V
Commercial 600V Delta
Spring Loaded CT Terminals, 300V-600V
CTs Commercial – 10ft (3m) CT Leads, (Red/Wht, Blk/Wht, Blu/Wht)
FEATURES
Voltage Ratings
120V, 208V, 240V, 277V, 347V, 416V, 480V, 600V
Current Ratings
0.8mA – 100mA, 12 Current Inputs per Module
Energy
kWh, kVARh, kVAh, Delivered, Received & Net
Demand
kW, kVAR, kVA, Delivered, Received & Net
Instantaneous
Volts, Amps, PF, kW, kVAR, kVA, Frequency
Dimensions
Each module is: 11.0cm H x 30.2cm W x 8.3cm D
(4.3" H x 11.9" W x 3.3" D)
Storage
6 months inside Meter Module,
5 Years in DCU/Display (at 1hr Intervals, 10 Registers)
Design Life
30-year
Clock Battery
30-year
Temperature
–40 to 70 Deg C
IP Rating
Indoor Use (NEMA 4 Enclosure available for outdoors)
Humidity
0 to 90% non-condensing
Accuracy Class
0.5 Class
APPROVALS & CERTIFICATIONS
Measurement Canada S-E-06 (AE-2616)
ANSI C12.20
California CTEP
CSA/UL/IEC 61010
FCC, Part 15, Subpart B
Industry Canada CS-03
CSP
The CSP is one of North America's most advanced single-unit commercial smart electrical meters. The meter's surface-mount meter base and compact design makes installation easy, eliminates costly middle steps, and gives clients more control over where meters can be installed. The modular construction of the meter means relevant electrical parts can be easily removed for exchange without having to remove anything else.

EASE OF INSTALLATION
Slim surface-mount meter base eliminates need for wall patching
BREAKER COMPARTMENT
Breaker Compartment with UL489 Breaker available to meet Electrical Code installation requirements
COMMUNICATION MODULES
G3-PLC, RF Mesh, and Ethernet
REAL-TIME CLOCK
Real-Time Clock, 10-year battery (field replaceable)
MODULAR DESIGN
Seamless Modules: Meter, Base, Breaker, Comms
EASE OF SERVICE
Meter Head easily removed from Meter Base for exchange (service work, accuracy sampling, upgrades), but secured by door/seal
TIME OF USE
Time Of Use Registers, 4 Seasons, Holidays
GATEWAY & HEAD-END SYS
Advanced, resilient, and secure Gateway and Head-End System
MODEL OPTIONS
12-600 volts, 80mA, 100mA or 5 Amp, 1-, 2-, 3-element meters
MORE FEATURES
Digital outputs – kWh energy (scalable, open-collector)
Optical port – energy pulses and optical communications
RS485 communications port (Modbus RTU Protocol)
Pulse Inputs – Reads Dry-Contact or Open-Collector outputs from Third Party Meters (Water, Gas, Thermal, etc.)
G3-PLC Communications (optional):

Secure powerline communications
Mesh routing determines best path between Nodes
IPv6 addressing and packet structure

Secure:

Sealed after installation to prevent access
Tamper switch to alert of unauthorized access
User access to settings and data secured at multiple levels

3 Levels sealing (Meter accuracy, wiring terminals, and utility access door)
Meets Measurement Canada and ANSI C12.20 class 0.5 requirements
Logging memory for up to 6 months hourly full kWh register readings
Harmonic frequency energy registers and waveform capture capability
MODELS AVAILABLE
Physical Capabilities
CSP (Commercial)
Rated Voltage (Service Measurement)
120-600 Vac, 50/60Hz
Environmental Conditions
Indoor use only
-20°C to +60°C
≤95% relative humidity
UL/IEC PD2 (pollution degree 2)
UL489 Disconnecting breaker (optional)
Up to 240Vac
WYE (Line to Neutral), Delta (Line to Line)
WYE / DELTA jumper on meter base (CSP-480 only)
Meter Elements
1el, 2el, 3el
Current Transformer (CT) Inputs
3x 80mA or 100mA (0.8-200mA)
2 Pulse Outputs (included)
Kp energy pulse & relay control
3 Pulse Inputs (optional)
Water, Gas, and Thermal pulse meters
(100 Hz max)
Communication Ports
1 x Optical, 1x RS485
Communication Modules
G3-PLC, RF, Ethernet (installed in meter base on RS485 port)
MEASUREMENT AND SOFTWARE FEATURES
KWh Active Energy
Bi-Directional Energy Measurement
Current Demand
Peak Current Demand Recorded
KVARh Reactive Energy
KVah Apparent Energy (Vectorial)
Per phase Instantaneous Volts, Amps, kW, kVAR, Phase Angle, Neutral Amps (Calc)
Total Instantaneous kW, kVAR, kVA, PF, Hz
Per phase THD-Volts, THD-Amps
Demand Response Relay Control
Real-Time Clock
Hourly and Daily Logging Memory
4-quadrant Phasor Support for Wiring Check
Temperature Sensor
Physical Size: 8.75" H x 6" W x 2" D