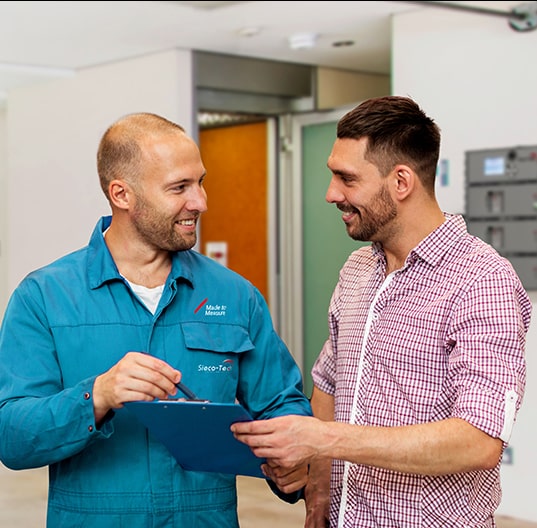 Sieco-Tech puts your business first with innovative, proven technologies and stellar customer service.
Since its inception in 2006, Sieco-Tech has been committed to creating innovative smart electrical sub-metering solutions that provide the best quality and highest reliability at the lowest price per meter point. We exceed expectations with our drive to provide solutions that are cutting-edge without ever cutting corners. Our company's years of experience have given us a thorough understanding of the sub-metering business, and we take a detail-oriented approach to ensuring care and quality in every facet of our solutions.
Customer service is Sieco-Tech's top priority. Our clients can readily attest that whenever they encounter a challenge, Sieco-Tech puts the full thrust of our determination and expertise into making sure it gets solved reliably and in good time. A relationship with Sieco-Tech guarantees your business lower costs, ongoing support, and proven, client-focused solutions.
Our Guarantee
Sieco-Tech is defined by five core values that we guarantee to each and every one of our clients: Innovation, Quality, Sustainability, Cost-Efficiency, and Reliability.

Innovation
Sieco-Tech is committed to forging new paths in the multi-unit metering industry to ensure we can always offer clients better quality, lower costs, and the least hassle.
Our solutions are easy to use. We know the business inside out and are committed to delivering client-friendly solutions that make deploying multi-unit metering solutions as efficient as possible.

Quality
Sieco-Tech is committed to providing customers with best quality solutions that are cutting-edge without ever cutting corners.
Our team pays great attention to detail in every facet of building our solutions to ensure your business always receives the best hardware, software, and data quality.
We take security seriously, and implement measures including encryption to ensure data security.

Sustainability
Sieco-Tech makes consciousness of the environment a priority, offering solutions that are energy-efficient and proven to result in reduced waste. Our products last longer, and save your business from frequent replacements.

Cost-Efficiency
Sieco-Tech is committed to offering solutions at the lowest price points per meter.
We provide flexible solutions that are adaptable to suit your diverse applications, saving your business from unnecessary expenses.
Our products are also readily available. We deliver to clients within 4-6 weeks of an order being placed.

Reliability
Customer service is Sieco-Tech's number one priority. We guarantee your business that you can rely on us to provide support that exceeds expectations for all your business needs.